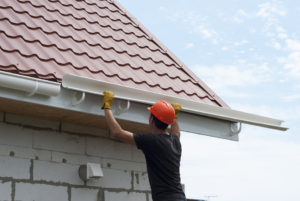 Gutters that are well-maintained and cleaned regularly can last for long. However, if your gutters and drainpipes are ruined by harsh weather conditions or due to infrequent gutter repair, you may have to replace them.
Gutters and drainpipes are important because they serve the purpose of capturing any water run-off from the roof of the building when it rains or thaws and channels this water away from the house to protect the shingles, sides, and foundation. Given that your gutters and drainpipes are damaged, there may be extreme water damage to your home as time passes.
How to Determine if You Need Gutter Replacement
While you conduct a periodic inspection of your home, you should never forget to check your roof, siding, and gutters. When cleaning out the gutters to remove fallen leaves and other debris, you should inspect the state of every section ensuring that all sections are properly set. Also, you should ensure that your gutters are not rusted or full of cracks. Given that your gutters or drainpipes are bent or looking floppy, this shows you that they are too worn to be useful any longer. It is common to see mold growing on the side of your house where the gutters leak.
While you may be forced to replace your full gutter system, in most cases, you will only need to partly change those are that are too worn, as a full replacement may be expensive. However, if you're just replacing some bad sections, make sure to change all defective areas. Remember that it is costlier to fix water damage to your roofing system and foundation than it is to do a gutter replacement.
The Most Suitable Time
Since you want to make sure that your house is fully protected, the appropriate time of year to do gutter repair and replacement is important. It is very wise to do gutter replacement before wet seasons begin. Prior to an extremely rainy season or melt from ice or snow, you should have already set up gutters that are in good conditions and will assist the water runoff to flow away from your house effectively.
In most cases, gutter replacement is done when people have a roof replacement. Roofing contractors prefer to do their work at a time when there will be fewer interruptions, which is usually in the summer. The summer months are probably the best time to replace your gutters or drainpipes. For those living in regions that experience a long rainy season, it may be wise to get copper gutters as they last for long. Regardless of the material of make, the new gutter system is a great investment for the protection of your house.